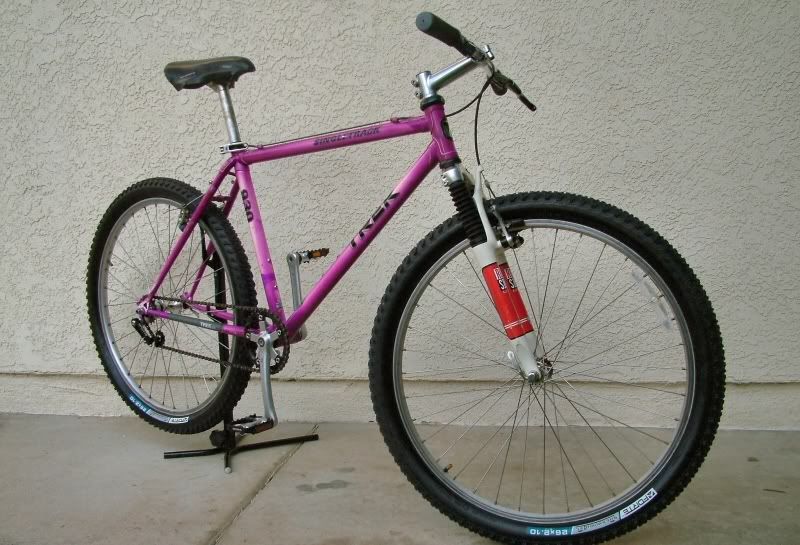 Beth, a Co-Worker wanted me to get her old Trek 920 in working order so she could start riding to work. Working with a very small budget, I decided to ditch the 7 speeds and convert the Trek to a SS. This was my first conversion and it was surprisingly easy. I was able to re-use most of the original parts and only replaced tubes, tires, and cables.
I got Beth's bike in working order and in the process grew fond of the notion of building myself a SS. Lucky me, Beth's ambitions of riding to work did not pan out and the bike was given to me for a very small fee. I decided to strip it down, powder coat it and rebuild it. The result, a very stealthy SS.
Somethings I changed:
I stripped the bike down and powder coated the frame, handle bars and crank arms. I am very happy with the results and the cost to powder coat was close to free (It helps when you know a Powder Coater).
Brakes and Levers: I replaced the old, ugly brake/shifter levers to Avid Single Digits and added Avid V-Brakes to match. This Avid Brake Lever/Brake combo works well with more than adequate stopping power.
Chain Ring: I opted for a Surly 34 tooth ring.
Stem: The OEM stem was about 130 mm and 20 mm too long. It too was ugly, so I replaced it with a 110 mm Easton EA 30.
Fork: I replaced the old Rock Shox Indy XC for a traditional rigid fork. I went this route because; 1) Its simple and 2) New Generation suspension forks would mess up the original geometry of the bike.
First Ride: I took it out to Mills and Baldy Road last Sunday and I was surprised how well it rode. Riding up Burbank was challenging but I managed to get to the top in about 30 minutes. There were sections up Burbank I had to really mash gears to keep moving forward. The ride down Cobal was fun. The rigid forks did make it a harsh ride downhill but again it didn't seem to bother me much on the ride. I guess I'm still in the honeymoon stage of SS riding.