I have been in correspondence with Annette, the writer of
Glendora Mountain Road
. We first met at the 2009 Amgen Tour of California, Pasadena stage. There we agreed late March we'd get together and ride GMR. My plan is to someday make it to Mt. Baldy and she has a great system that I think will get me there in a few months. Link to how she, "
Made it
."
I was pretty excited for this ride because; one, its a ride and two, I get to meet Annette and some of her ride partners (Its always a good day when you can ride and meet new people along the way).
We decided to stage at the corner of GMR and Sierra Madre. The day was nice and sunny so I opted to ride from my home in Pomona. When I got there Kevin was riding up from his house in Glendora and Carl arrived a few minutes after.
We talked awhile and shortly there after Matt arrived. Matt rides GMR often and recently collided with a Motorcyclist on GMR. The Motorcyclist was going too fast, lost control and laid his bike down. As he slid down GMR, Matt was going up and CRASH! Fortunately Matt was okay. His bike frame was totaled but he came away with just a bruise on his head. Lucky Guy, he should have bought a Lottery Ticket that day too!
Annette arrived about five minutes after Matt and soon after we headed off to the Maintenance Shed. Annette is somewhat of a celebrity on GMR. On her Specialized with a distinctive red bandanna around her neck, she rides GMR regularly and has met quite a few riders along the way. Annette has many stories to tell about GMR. Just visit her site and you'll see!
Above Picture: Carl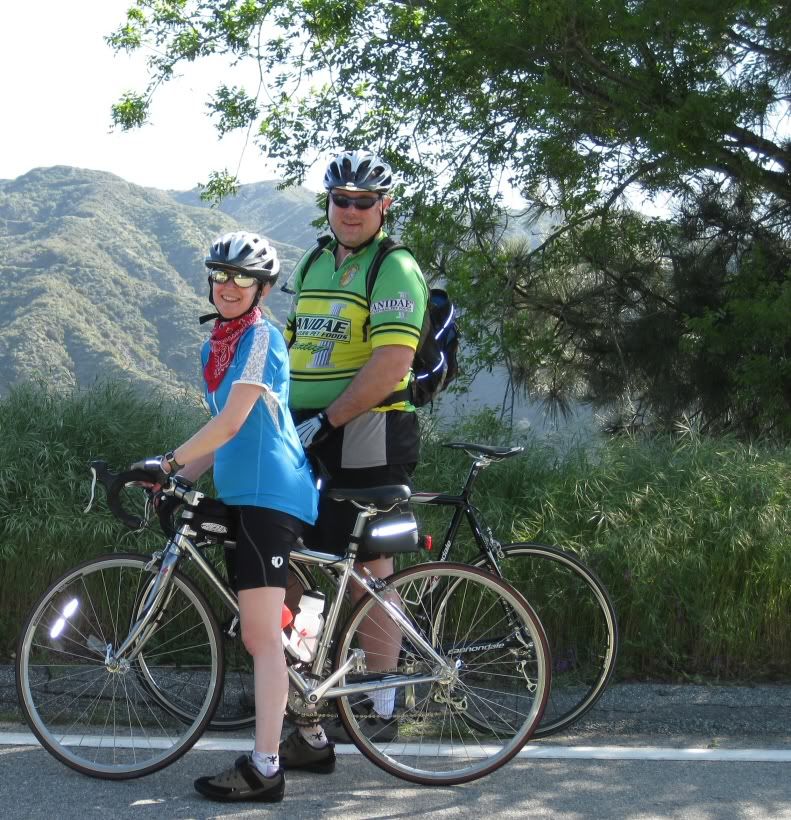 Above Picture: Annette and Kevin
Above Picture: Matt
Above Picture: Jason (Me)