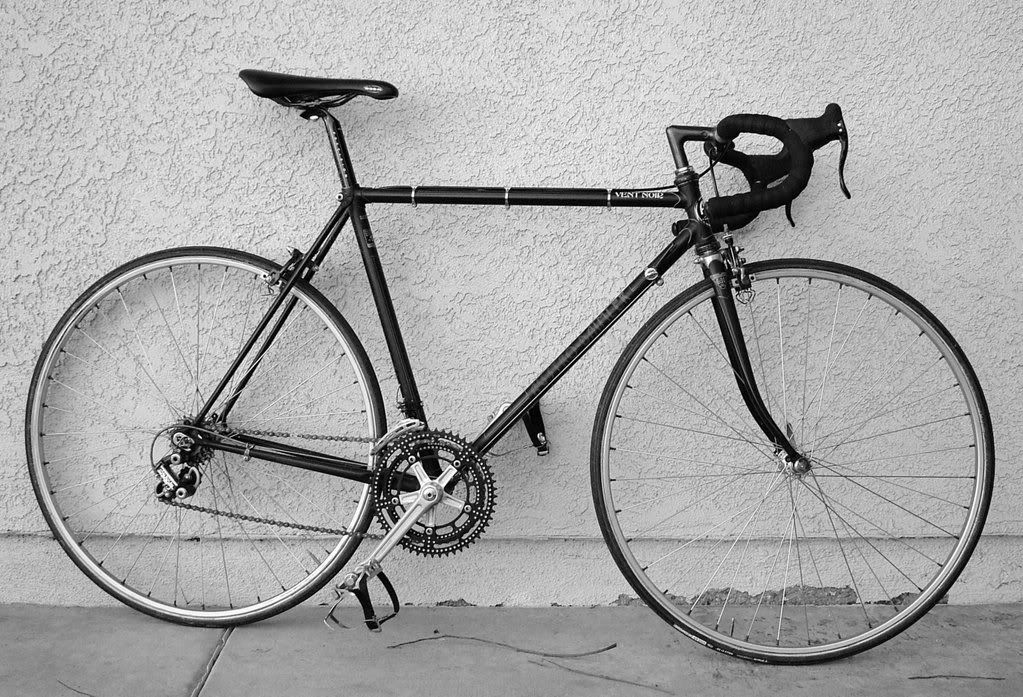 This Wednesday, after work, I rode around Bonelli Park on my 29 year old Austro Daimler. The ride was fast and my Austro Daimler handled well for its age.
The Austro Daimler Company stopped making bikes in the early 1980s. My bike is the "Vent Noir II" or Black Wind which was hand made in Austria. It's constructed of lugged Reynolds 531 and weighs about 18lbs. The Austro Daimler Vent Noir is nicely equipped with vintage Shimano Dura Ace. Yes Dura Ace!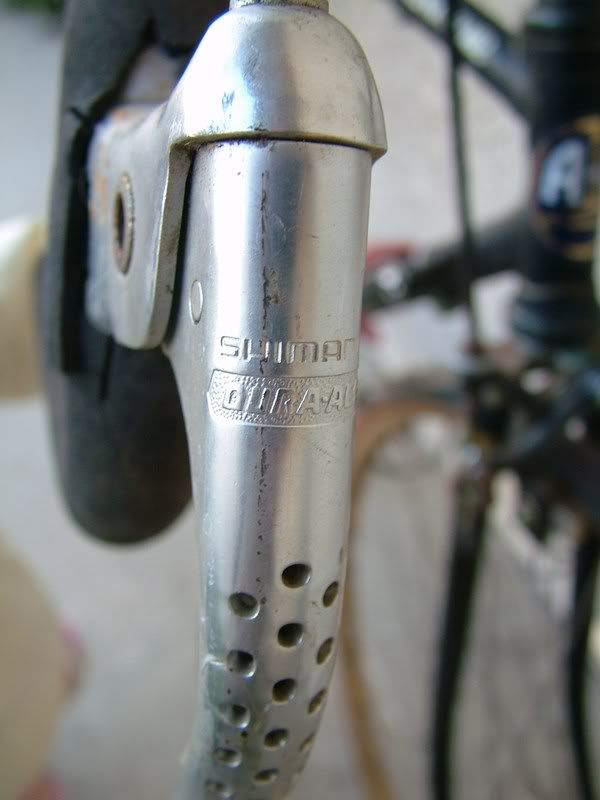 The Vent Noir was given to me for free by a co-worker who just wanted the old dusty bike out of her garage. When I picked it up from her house, although I didn't know much about the name Austro Daimler, I knew I had something truly special. I brought it home and started cleaning it up. I glued on new tires, replaced cables, brake pads, swapped out the seat, seat post and brake levers. Once it was all cleaned up, I designated it as my work bike. I use the Vent Noir to ride to the bank and to get lunch while at work.
The Vent Noir comes beautifully equipped with black anodized and drilled cranks. The crank arm length is 170 mm with 53/42 front chain rings. I find the 42t is a bit much gear to push. I replaced the original Dura Ace brake lever with Cane Creeks. I chose the Cane Creek lever over the original because I didn't like the way the cables were routed. The original lever cable exit off the top.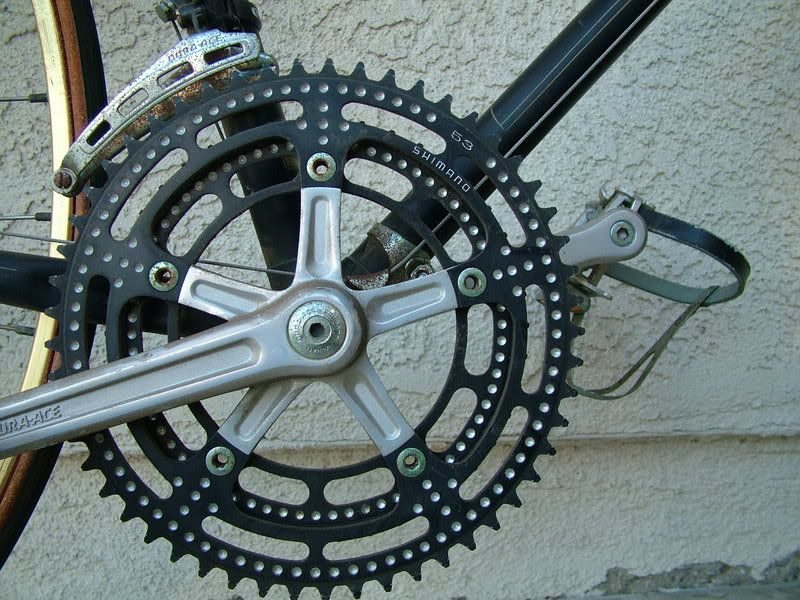 I don't know if its because the bike was free or because I cleaned it up, applying generous amounts of elbow grease, its age or something else, but it's such a fun bike to ride. There is something extremely satisfying about riding it around. It's smooth, yet quick and agile. The vintage Dura Ace DT Shifters work well and the bike has an air of simplicity that is both refreshing and fun. Whether I'm hopping on the Vent Noir for a leisurely ride to the bank or a fast group ride around Bonelli Park, I can't help but smile while riding it. It weird but I really like this bike. At one time, I thought about converting it to a fixed gear but I can't bring myself to change to much of the original components. This bike is truly a classic.
Riding around Bonelli was a blast. I started at the Park and Ride off Via Verde. The Vent Noir felt fast and spry as I descended into the park. I took a quick left and headed over the dam. Once on Pudding Stone Dr. I came up to some riders and increased my cadence to catch up with them. I caught the first riders rear wheel and hung with him for about 200 yards before passing. At the intersection of Pudding Stone and Fairplex, I saw a large group of other riders waiting. I guess this is where the large pack of Wednesday night riders start.
I keep on riding and catch up to another rider and hang on his rear wheel for about 150 feet. We talk and his name is John. He does this ride regularly and shortly passes me. Soon after, I hear a whizzing sound of fast moving wheels, lots of them. I look to my left and like a freight train 30 to 50 riders are speeding past me. We're all in a moderate incline, but to the group its nothing. We might have well been on flat highway because these guys were going fast. At the speed they were going, I was in the wrong gear if I wanted to keep up with them. I shifted the Vent Noir down to a lower gear, stood up, started pumping and tried my best to stay with the last rider in the group. I was only able to hang with the last rider for about 25 to 50 feet before I was done. Did I say these guys were fast?
The group continued up Via Verde, over the freeway and down San Dimas Ave. I hung a quick right down to Bonelli dam. I could see John chose the same route and I scrounged up what energy I had to catch back up with him and another rider at Pudding Stone Drive. We road together for a about 50 feet until John turned around and I continued on. I new at some point the main group would catch back up with me so I geared down to catch my breath before they came up on my rear again.
Towards Bracket Airport, the group started closing in on me. Again like a freight train, the group came up on me fast, I quickly looked to my left and the first few riders are starting to pass. Damn! I try my best to hang with the group but the momentum they are carrying quickly overcomes me and in a flash I'm looking at the rear wheels of the last riders. Opportunity lost, they are just too fast.
Another group of about 8 riders pass me. Looks like the main group has split into two. Here is my opportunity, I increase my speed and catch the last guy's rear wheel. Man this group is fast too, I think to myself as I lock onto the guys rear wheel. In almost a hypnotized state, I clear my mind of the pain in my lungs and legs and of the environment around me, and concentrate only on the rear wheel I'm following. This is all I can do to hang with the second group. I hang for about a half mile until another rider passes me on my left. Before the actual pass, I could hear this rider coming up to my rear really fast. I look to my left and its a skinny petite woman and she's going like a bat out of hell! It's like I'm at a dead stop, she walks away from me and the group I'm riding with. This quickly breaks my concentration, and I slow my pace. The group starts pulling away from me and within 10 - 15 seconds I see the woman is already way ahead of me.
I continued my loop and towards the west entrance of Bonelli Park, I kept looking back, waiting for the main group to lap me. It never happened and I'm glad. I finish up my ride and head home. This was my first experience with riding, or rather trying to ride, with a large group. It was exciting and I hope some day I can actually hang with them.